Organic
Organic products are a sure sign of a heightened sense of awareness, and compassion of the people in the world we live in. We, at Fox-Rich, have an obligation to be a part of this movement towards a more sustainable environment; free of the dangerous chemicals and pesticides that contaminate our land, our factories, and the clothes we wear. We want an environment where fields of cotton are not grown with genetic alterations and chemical treatment, but with only sun, soil and water.

All of our products are 100% certified. We buy the fiber from the farmers, and follow it each step of the way through opening, cleaning, carding, combing, spinning, weaving and finishing.

We can even spin partially organic yarn for those companies who want to slowly switch to organic fabric. Please let us know how we can help you to make the switch.
---
Theatrical
Fox-Rich has been manufacturing theatrical fabrics since 1945. We carry a large inventory of the standard scenic fabrics.
In addition to the staple theatrical fabrics, we are able to create custom fabrics that match the needs of your company. Whether it be flame retardant, opaque, durable, shiny, drapeable, or bright in color, Fox-Rich can supply the fabric you need.
Compare our prices to your existing costs.
---
Airplane Cloth
As the only producers (that we know of) of the original airplane cloth, Fox-Rich is proud to be a part of history in helping restore antique airplanes. For all aeronautical fanatics, yes, this is the same 100% cotton, high construction fabric made with fine yarn, and finished to meet military specification MIL-C-5646F, and AM3806.
Because of its unique characteristics as a very high bursting strength cotton fabric with a very smooth and soft hand, this material is now used in many other applications including adhesion tests, museum artifact storage, several military applications and even in high-end apparel.
---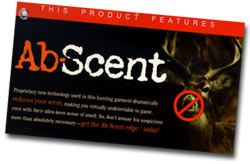 Ab-Scent™
Ab-Scent™ is the fastest growing line of fabrics in the hunting industry because it thoroughly addresses the need for scent-controlling fabrics. Its components prevent, reduce, and absorb odors, making it easier for hunters to get closer to their trophy. Proprietary technology allows Ab-Scent™ to be built right into the manufacturing process--in every thread of the garment. The process starts before the yarn is made and continues until the last step in processing the fabric is completed.
Ab-Scent™ garments are comfortable because they feel and perform like any other conventional fabric in terms of texture and strength, plus they facilitate quiet movement.
A garment's wickability--its ability to transport moisture from the layer closest to the body to the outermost layer--is critical to hunters who are out in all types of weather. Ab-Scent™ is extremely wickable. The result: you will stay dryer and more comfortable in all seasons and in all climates.
Ab-Scent™ will remain effective for the life of the garment. It has no extra layers and requires no special laundering--in fact, unlike some products that enclose compounds within two layers of fabric--an Ab-Scent™ garment will retain its effectiveness over any number of washes.
Ab-Scent™ garments are relatively inexpensive. So, in addition to staying warmer and dryer while reducing odor, you're also getting a great value.
---
Havoc™
Fox-Rich Textiles has made an agreement with the Image Country Camouflage for Fox-Rich to market and produce the Image patterns. This agreement includes the new Havoc™ pattern.
Jim Reich, President of Fox-Rich said "This represents a great opportunity of us and Image. The Havoc™ pattern is not only extremely effective in the woods, but also has tremendous shelf appeal."
Fox-Rich will contribute the marketing and sales efforts and stock fabric for immediate delivery in the Havoc™ pattern. Nick Micalizzi, President of Image Country Camouflage and well-known hunter and outdoorsman, will promote the Image Country patterns, support licensees through advertising, videos, etc. and provide new artwork and technical assistance in developing the pattern.